Zoos are inhumane and pointless. To what extent do you agree or disagree?
Chào các bạn, mình là Khang đến từ Trung tâm Ngoại ngữ IELTS MASTER – ENGONOW. Hôm nay mình rất vui khi có thể chia sẻ đến các bạn bài mẫu đề thi Task 2 nhé.
GIỎI TIẾNG ANH – CHUẨN IELTS – HỌC IELTS MASTER
http://ieltsmasterhcm.com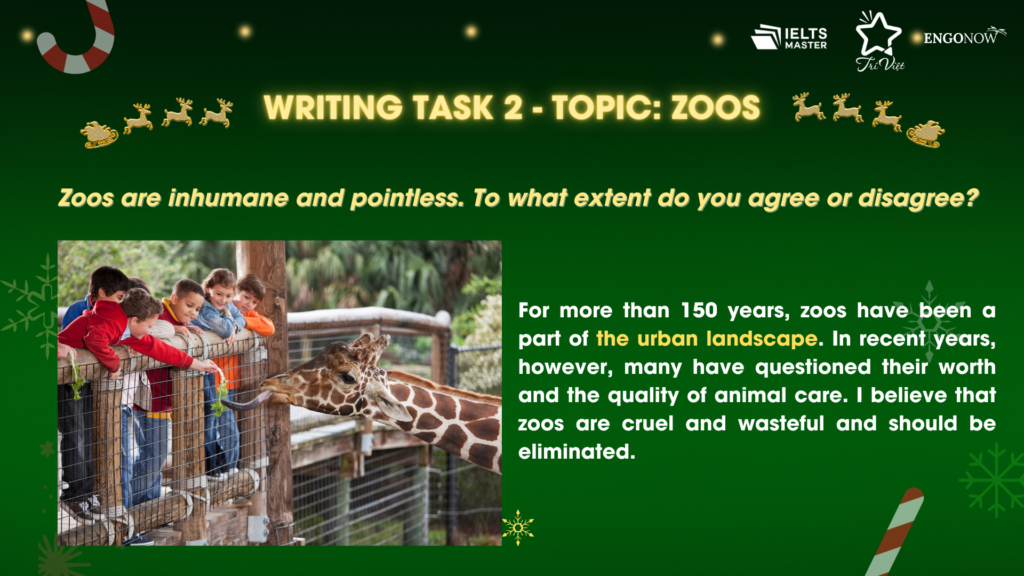 For more than 150 years, zoos have been a part of the urban landscape. In recent years, however, many have questioned their worth and the quality of animal care. I believe that zoos are cruel and wasteful and should be eliminated.
Despite the fact that many zoos have achieved significant advances over the years, it cannot be denied that caged animals suffer. Not only are enclosures typically considerably too small, but the climate and the surroundings are frequently inadequate as well. Polar bears, for example, traverse large stretches of ice every day, yet in some tropical locations, they are confined to small enclosures with only a small pool for water. In addition to this discomfort, zoo animals may experience stress due to their confinement with new and unrelated cage mates, as well as the throngs of noisy visitors.
Although zoos can aid in the preservation of endangered species, this effort is ultimately worthless from a conservation standpoint. The Sumatran tiger, for instance, has been successfully bred in captivity; nevertheless, after being raised by people, the captive population has lost its natural inclination to hunt, avoid humans, and care for its young. Therefore, it would be impossible to restore these animals to the wild. Another salient point is that there is also habitat loss to consider. Urban growth, industrialization, farming, and logging all contribute to habitat loss, so even if a captive-bred population of pandas or tigers were ready for release, they would have nowhere to go.
In summary, zoos may be able to keep animals alive, but their quality of life is inferior, and their future prospects are grim. In my opinion, to ensure the long-term survival of species, efforts should instead be made to maintain wilderness regions.
(By Khang IELTS- IELTS MASTER HCM- ENGONOW- Band 8.5)
Xem thêm: Bài mẫu IELTS WRITING TASK 2 – TOPIC: ENVIRONMENTAL AWARENESS