It is predicted that in the future cars will be driven by computers. What are the reasons behind this? Would it be a positive or negative development?
Chào các bạn, mình là Khang đến từ Trung tâm Ngoại ngữ IELTS MASTER – ENGONOW. Hôm nay mình rất vui khi có thể chia sẻ đến các bạn bài mẫu đề thi Task 2 năm 2023 nhé.
GIỎI TIẾNG ANH – CHUẨN IELTS – HỌC IELTS MASTER
http://ieltsmasterhcm.com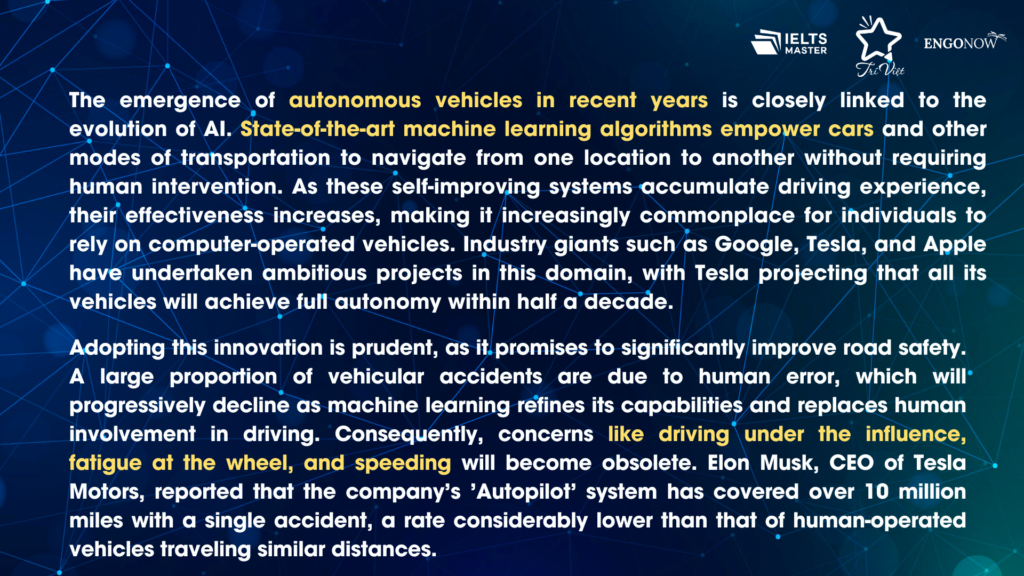 Sample Answer:
It is predicted that in the foreseeable future, automobiles will be operated by advanced computer systems. This development can be attributed to the rapid progress in artificial intelligence (AI) focused on vehicular navigation and is, overall, a positive advancement as it enhances safety and reduces the risk of accidents.
The emergence of autonomous vehicles in recent years is closely linked to the evolution of AI. State-of-the-art machine learning algorithms empower cars and other modes of transportation to navigate from one location to another without requiring human intervention. As these self-improving systems accumulate driving experience, their effectiveness increases, making it increasingly commonplace for individuals to rely on computer-operated vehicles. Industry giants such as Google, Tesla, and Apple have undertaken ambitious projects in this domain, with Tesla projecting that all its vehicles will achieve full autonomy within half a decade.
Adopting this innovation is prudent, as it promises to significantly improve road safety. A large proportion of vehicular accidents are due to human error, which will progressively decline as machine learning refines its capabilities and replaces human involvement in driving. Consequently, concerns like driving under the influence, fatigue at the wheel, and speeding will become obsolete. Elon Musk, CEO of Tesla Motors, reported that the company's 'Autopilot' system has covered over 10 million miles with a single accident, a rate considerably lower than that of human-operated vehicles traveling similar distances.
In conclusion, the advent of computer-guided transportation systems is poised to transform the landscape of vehicular navigation, with AI playing a crucial role in this metamorphosis. This development should be regarded as beneficial, as it promises to elevate safety standards and significantly reduce the occurrence of road accidents.
(By Khang IELTS- IELTS MASTER HCM- ENGONOW- Band 8.5)
Xem thêm: Bài mẫu IELTS WRITING TASK 1: LINE GRAPH – EXPENDITURE