Chào các bạn, mình là Khang đến từ Trung tâm Ngoại ngữ IELTS MASTER HCM – ENGONOW. Hôm nay mình rất vui khi có thể chia sẻ đến các bạn tổng họp các câu trả lời mẫu IELTS Speaking Part 1 – Chủ đề: Recycle. Chúc các bạn học tốt nhé.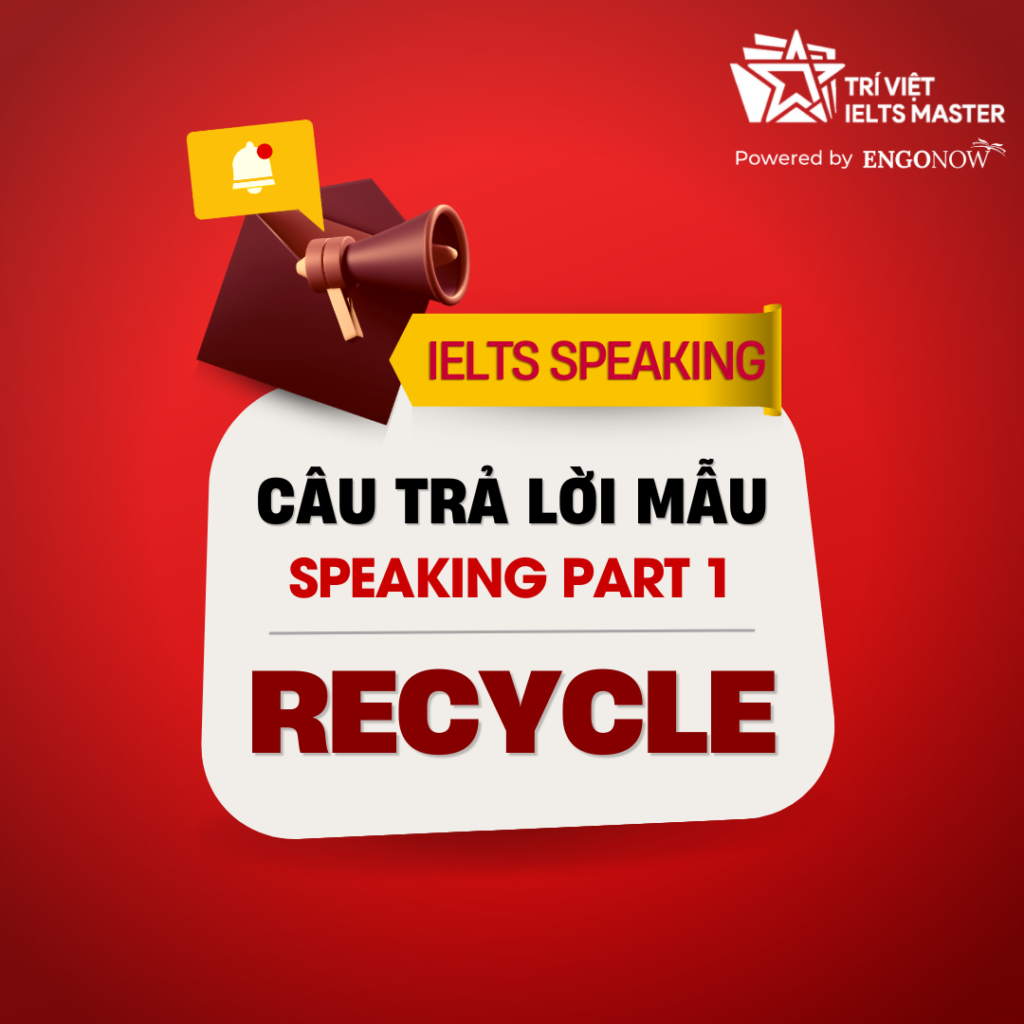 Question 1: Do you think plastic recycling is important, and why?
Absolutely, plastic recycling plays a vital role in preserving our environment. By reusing materials from discarded plastic items, we reduce the demand for new plastic production, ultimately decreasing pollution and waste. For instance, recycling one plastic bottle can save enough energy to power a 60-watt light bulb for six hours, illustrating the significant benefits of recycling.
Question 2: How can we minimize plastic pollution in the oceans?
One effective way to combat oceanic plastic pollution is by reducing our reliance on single-use plastics. We should switch to reusable alternatives, like cloth bags and metal straws. Additionally, participating in beach clean-ups and supporting policies aimed at waste reduction can make a meaningful impact on preserving marine ecosystems.
Question 3: What do you think about the idea of banning single-use plastics?
I'm in favor of banning single-use plastics because it can significantly cut down on waste and encourage the adoption of sustainable alternatives. For example, some cities have witnessed a decrease in plastic waste after implementing plastic bag bans, proving that such measures can be effective in promoting environmental conservation.
Question 4: Can you suggest any other methods for plastic disposal besides recycling?
Apart from recycling, we can also consider upcycling, which involves repurposing plastic waste into new and creative items. For instance, transforming plastic bottles into planters or pencil holders can be a fun and eco-friendly way to utilize discarded plastics, reducing the overall environmental impact.
Question 5: How can we raise awareness about the negative effects of plastic pollution?
To raise awareness, we can organize educational campaigns and workshops that emphasize the harmful consequences of plastic pollution on ecosystems and human health. Additionally, promoting documentaries and sharing real-life examples on social media platforms can help people grasp the urgency of tackling this pressing issue.
Useful phrases and collocations (with synonyms):
Vital role – Crucial function, essential part
Explanation: A vital role implies that something has a significant impact and is indispensable for the success or effectiveness of a system or process.
Single-use plastics – Disposable plastics, one-time use plastics
Explanation: Single-use plastics are products made from plastic that are designed to be used once and then discarded, contributing significantly to plastic pollution and waste.
Reusable alternatives – Sustainable substitutes, eco-friendly options
Explanation: Reusable alternatives are products that can be used multiple times, replacing single-use items and helping to reduce waste and environmental impact.
Waste reduction – Decreasing waste, minimizing garbage
Explanation: Waste reduction refers to the process of lessening the amount of waste produced by individuals, communities, or industries, ultimately contributing to a cleaner environment.
Marine ecosystems – Oceanic habitats, aquatic environments
Explanation: Marine ecosystems are the various habitats and communities that exist within the world's oceans, which support diverse forms of life and are crucial for maintaining the Earth's overall ecological balance.
Environmental conservation – Preserving nature, protecting the ecosystem
Explanation: Environmental conservation refers to the practice of safeguarding and managing natural resources and ecosystems to ensure their continued health and longevity.
Plastic disposal – Discarding plastics, getting rid of plastics
Explanation: Plastic disposal refers to the process of discarding or managing plastic waste in an environmentally responsible manner to minimize its negative impact.
Upcycling – Creative reuse, repurposing materials
Explanation: Upcycling is the process of transforming waste materials or discarded items into new, useful, or aesthetically pleasing products, reducing the overall environmental impact of waste.
Eco-friendly – Environmentally friendly, sustainable
Explanation: Eco-friendly refers to products, practices, or behaviors that have minimal adverse effects on the environment and contribute to the conservation of resources.
Hy vọng thông tin trên sẽ có ích cho những bạn học đang trong quá trình chinh phục IELTS. Chúc các bạn học tốt.
KHANG IELTS – TỰ HỌC IELTS THEO PHƯƠNG PHÁP ỨNG DỤNG 4.0 – CẢI THIỆN TỪ MẤT GỐC (Hotline: 0969.979.099)
Xem thêm: TỪ VỰNG NÂNG TRÌNH IELTS SPEAKING – CHỦ ĐỀ: HEALTH & FITNESS