Some people feel that manufacturers and supermarkets have the responsibility to reduce the amount of packaging of goods. Others argue that customers should avoid buying goods with a lot of packaging. Discuss both views and give your opinion.
Chào các bạn, mình là Khang đến từ Trung tâm Ngoại ngữ IELTS MASTER – ENGONOW. Hôm nay mình rất vui khi có thể chia sẻ đến các bạn bài mẫu đề thi thật Task 2 năm 2023 nhé.
GIỎI TIẾNG ANH – CHUẨN IELTS – HỌC IELTS MASTER
http://ieltsmasterhcm.com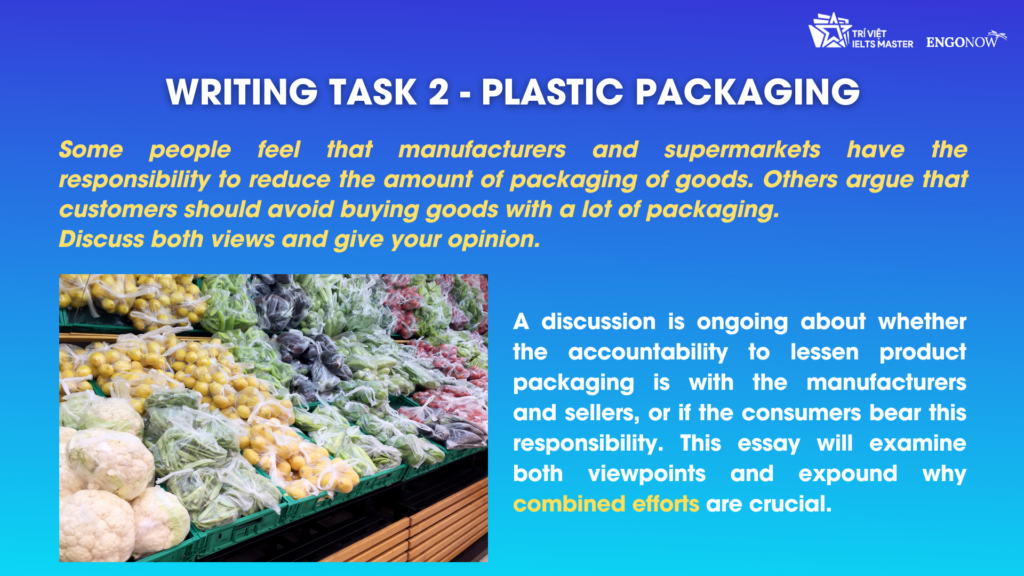 Sample:
A discussion is ongoing about whether the accountability to lessen product packaging is with the manufacturers and sellers, or if the consumers bear this responsibility. This essay will examine both viewpoints and expound why combined efforts are crucial.
One argument suggests that companies have a sizable duty to reduce the packaging used for their commodities. The reason for this perspective lies in the significant lack of awareness among many customers about the adverse environmental repercussions linked to excessive packaging. Therefore, firms in manufacturing and retailing should aim to decrease their dependence on plastic wrappings, choosing eco-friendlier options such as recyclable or biodegradable materials. Additionally, the economic limitations preventing some people from selecting their purchases accentuate the necessity for corporate responsibility.
On the other hand, the belief exists that consumers, individually, have a part in halting further environmental damage and pollution. This can be achieved by consciously bypassing goods packed in non-degradable materials. Such intentional avoidance could impel firms that neglect environmental norms to reconsider their packaging strategies. This could, in turn, encourage these companies to adopt eco-friendly methods, leading to the revamping and minimization of product packaging. Nonetheless, this perspective hinges on united consumer action. In conclusion, the excess of packaging demands shared responsibility from both companies and individuals. Furthermore, it is essential for the government to step in with regulations. By establishing strict rules concerning plastic packaging and heightening public awareness of the environmental risks connected to packaging waste, a harmonious ecological balance could be achieved.
(By Khang IELTS- IELTS MASTER HCM- ENGONOW- Band 8.5)
Xem thêm: Bài mẫu IELTS WRITING TASK 1: LINE GRAPH