In many countries, people are now living longer than ever before. Some people say an ageing population creates problems for governments. Other people think there are benefits if society has more elderly people.
To what extent do the advantages of having an ageing population outweigh the disadvantages?
Chào các bạn, mình là Khang đến từ Trung tâm Ngoại ngữ IELTS MASTER – ENGONOW. Hôm nay mình rất vui khi có thể chia sẻ đến các bạn bài mẫu đề thi Cambridge 18 – Task 2 nhé.
GIỎI TIẾNG ANH – CHUẨN IELTS – HỌC IELTS MASTER
http://ieltsmasterhcm.com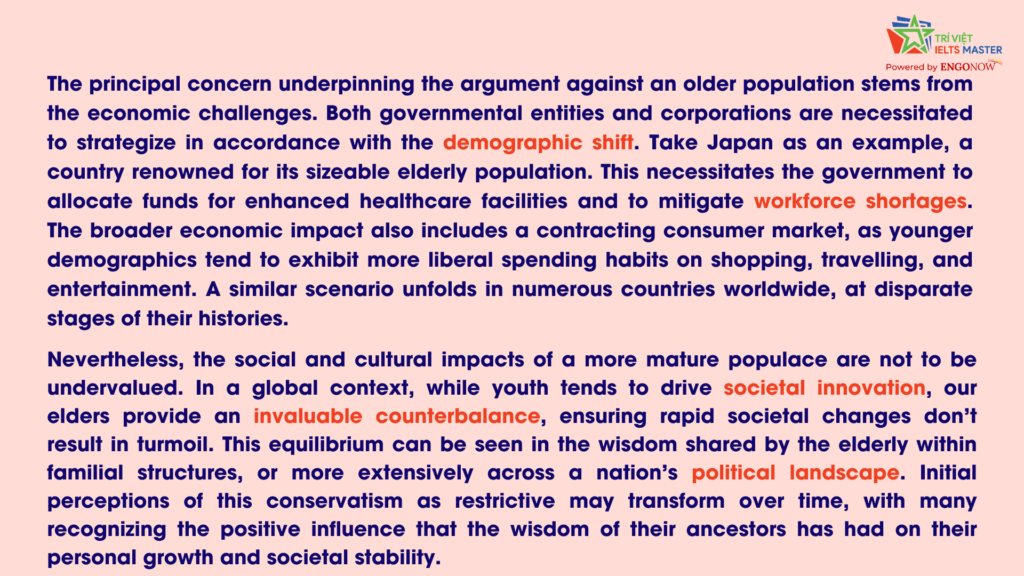 SAMPLE:
In the contemporary era, the trend of people living significantly longer than prior generations is becoming progressively evident. While this upsurge in the elderly population is perceived by some as an economic burden for governments, I am of the opinion that this development imparts crucial advantages that far outweigh the potential negatives.
The principal concern underpinning the argument against an older population stems from the economic challenges. Both governmental entities and corporations are necessitated to strategize in accordance with the demographic shift. Take Japan as an example, a country renowned for its sizeable elderly population. This necessitates the government to allocate funds for enhanced healthcare facilities and to mitigate workforce shortages. The broader economic impact also includes a contracting consumer market, as younger demographics tend to exhibit more liberal spending habits on shopping, travelling, and entertainment. A similar scenario unfolds in numerous countries worldwide, at disparate stages of their histories.
Nevertheless, the social and cultural impacts of a more mature populace are not to be undervalued. In a global context, while youth tends to drive societal innovation, our elders provide an invaluable counterbalance, ensuring rapid societal changes don't result in turmoil. This equilibrium can be seen in the wisdom shared by the elderly within familial structures, or more extensively across a nation's political landscape. Initial perceptions of this conservatism as restrictive may transform over time, with many recognizing the positive influence that the wisdom of their ancestors has had on their personal growth and societal stability.
To summarise, despite the fiscal implications of an aging demographic, I maintain that the intangible societal advantages engendered by this shift make it a welcome progression. Nevertheless, the associated challenges require a collective response from governmental bodies and individuals to ensure effective management.
(By Khang IELTS- IELTS MASTER HCM- ENGONOW- Band 8.5)
Xem thêm: [CAM 18 – TEST 3] BÀI MẪU IELTS WRITING TASK 2: URBAN MIGRATION